03.29.2019
FOR IMMEDIATE RELEASE    Office of the Governor Contact: Alena Yarmosky Email: Alena.Yarmosky@governor.virginia.gov          Virginia Department of Housing and Community Development Contact: Amanda Love Email: Amanda.Love@dhcd.virginia.gov     Governor Northam Announces Over $4.9 Million in Virginia Telecommunication Initiative Grants   ~ More than 15,000 homes, 300 businesses, and community anchors to gain broadband service ~   Governor Ralph Northam today announced over $4.9 million in grants through the Virginia Telecommunication Imitative (VATI) for 11 projects within 12 counties throughout Virginia. The VATI program provides targeted funding to extend service to areas that are presently unserved by any broadband provider.   "In our 21st century economy, broadband connectivity is tied to every facet of our daily lives, from education to business to health care—that's why making high-speed internet available to every Virginian, in every region of the Commonwealth is a top priority for my administration," said Governor Northam. "This funding will help to close the digital divide in Virginia by putting in place the necessary infrastructure to expand affordable and reliable broadband service to currently unserved rural communities."   Governor Northam is committed to ensuring universal access to broadband in the Commonwealth. The Governor's broadband plan focuses on increasing access to these VATI grants which spur public-private partnerships to expand access.    The VATI program is a state-funded program administered by the Virginia Department of Housing and Community Development (DHCD). The goal of VATI is to create strong, competitive communities throughout the Commonwealth by preparing those communities to build, utilize, and capitalize on telecommunications infrastructure. DHCD allocated grant funding to eligible applicants to provide "last-mile" services to unserved areas of Virginia. The state budget currently includes $19 million in Fiscal Year 2020 for the VATI program.   "Slow, sporadic or limited broadband services present significant challenges for businesses looking to locate in Virginia's rural communities," said Secretary of Commerce and Trade Brian Ball. "Through these grants, we are making another step forward towards expanding access to quality broadband internet throughout the Commonwealth."     Projects were selected through a competitive process evaluating each project for demonstrated need and benefit for the community, applicant readiness and capacity, and the cost and leverage of the proposed project. The level of funding awarded is based on the infrastructure needs in the project areas.   An estimated 15,000 households, and 300 businesses, and community anchors will have broadband service available due to these grant awards, along with the public-private partnership involved in each project. Thirty-one applications requesting more than $10.9 million in funding were received. This year's funding leverages $9.2 million in local and private sector matching funds.   2019 Virginia Telecommunication Initiative Grants:   Organization Project/Activity Award Communities Served Albemarle Broadband Authority Central Virginia Electric Cooperative ABBA/CVEC VATI 2019 $301,748 Albemarle County Amherst County SCS Broadband Amherst County/SCS Broadband VATI Application $127,073 Amherst County Bedford County Blue Ridge Towers/Briscnet Bedford Broadband Authority Wireless Project $1,040,000 Bedford County Botetourt County Craig Botetourt Electric Cooperative Botetourt Broadband 2019 $758,998 Botetourt County Clarke County Comcast Comcast Clarke County White Post Broadband Project $209,513 Clarke County Floyd County Citizens Copper Hill Project $348,018 Floyd County Letter of Intent Fluvanna County Central Virginia Electric Cooperative Fluvanna Broadband Expansion $641,967   Fluvanna County   Giles County Gigabeam Western Giles County Fixed Wireless Coverage $589,444 Giles County Halifax County SCS Broadband Halifax County Broadband – SCS Broadband 2019 $231,108 Halifax County Louisa County SCS Broadband AcelaNet, LLC/SCS VATI project $233,905 Louisa County Russell County Industrial Development Authority iGo Virginia Route 624 Broadband Initiative $455,581 Russell County Buchanan County
03.13.2019
Governor Northam today announced more than $6.7 million in Growth and Opportunity for Virginia (GO Virginia) funding for seven regional projects. Key members of the Governor's cabinet, the General Assembly, and the business community approved the GO Virginia grant funding for projects across the Commonwealth. These grants are for projects each region identified as vital to their efforts to diversify the regional economy, strengthen their workforce, and support collaborative programs between localities, public entities, and private businesses. "GO Virginia continues to promote innovative partnerships between businesses, local governments, and educational institutions to expand and diversify regional economies and help reach our shared economic goals," said Governor Northam. "These seven projects will build upon the momentum we are seeing throughout the Commonwealth to develop the talent, sites, and new businesses that make Virginia the best place to live, work, and raise a family." The GO Virginia grants will be used to implement projects that align with each region's Growth and Diversification Plans. These plans provide an honest assessment of the economic, workforce, and structural barriers in the region, as well as the existing regional economic drivers and potential growth sectors in each region. Projects that address these challenges and opportunities are a key step toward the creation of higher-paying jobs in the regions. "Through GO Virginia, we are supporting creative opportunities to assist our regions with providing the training and tools needed to diversify and strengthen our economy," said Secretary of Commerce and Trade Brian Ball. "The programs we are funding will continue to support the regional priorities identified by each region and work towards creating higher-paying jobs in priority areas." The regional per capita grants are awarded based on recommendations from the GO Virginia Regional Councils for projects that support regional collaboration and the Growth and Diversification Plans. The competitive grants are also recommended by Regional Councils and then awarded through a statewide competitive process for projects that are multi-regional in scope or represent an extraordinary opportunity to the Commonwealth. The GO Virginia Board is responsible for giving final approval for these grants awarded through the GO Virginia program. The GO Virginia Board approved seven projects, which will leverage at least $7,216,462 in non-state sources to assist with economic diversification throughout Virginia, including $3,530,281 of local government resources toward the seven projects.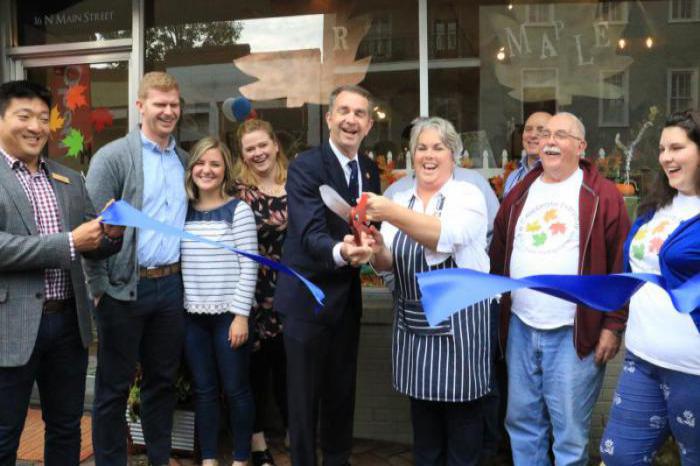 12.15.2018
LEXINGTON, Va. - The Lex Running Shop in downtown Lexington is open for business.  "My husband and I just thought that a running store would be a great addition to an already vibrant downtown," said Jess Reid, owner of Lex Running Shop.  Reid was able to celebrate the opening Monday with a special guest -- Gov. Ralph Northam.  "I'd love to continue to grow running and running culture in our town and to help people meet their goals," said Reid.  Northam spent the morning cutting ribbons and touring the Lex Running Shop and six other businesses that are part of the Launch Lex program. That program is part of a statewide effort by the Virginia Department of Housing and Community Development to give small businesses training and financial assistance so they can be successful.  The other newly opened businesses include Just Games Lexington, ​​​​​fLEX Fitness Studio, Red Newt Bikes, Heliotrope Brewery, Sugar Maple Trading Company and Make It Sew. "We are so impressed by their efforts and their success so far and we thought how can we celebrate that," said Jamie Goodin, event organizer. After his speech, Northam was approached by pipeline protesters who were asking questions about his response to the Mountain Valley Pipeline. He did not comment.
There are currently no upcoming events to view.
"Whether it is providing guidance on funding or attending a training, we gain knowledge and confidence in our abilities to improve the quality of life or others."